Traveling to Rome
Sunday, June 25, morning.
My suitcase is packed, travel documents are ready and everything is tidy and clean. Ready to go to Rome!
My trip will take me by bus and train to Schiphol, where I will meet Ferry Spaan of TNT Express. We'll fly to Rome together. Since we're both staying at the same hotel, we'll also share a taxi after the flight.
The bus was right on time and the train also left on time. Up until Assen everything was nice and quiet, but in Assen lots of people boarded the train. All of them had been to the TT races the previous day. This gave a lot of noise. Some children were there, one of them had an MP3-playing mobile phone and she was playing house on it the whole time (just that one type of music i dislike...). The other one had an orange football-radio thing, which the whole compartment had to listen to. So much for a quiet Sunday.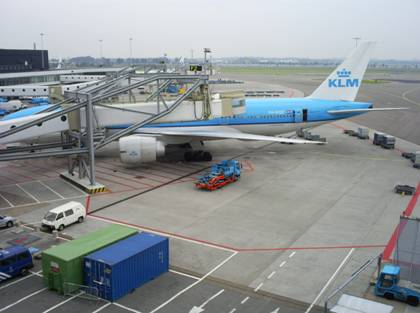 Schiphol airport was already swarming with people going on holiday. Since I came out of the train not really feeling like myself, I took an elevator to the Panorama Terrace (of course!!). There I sat down to have a drink and after that I took some pictures. After that I went to check-in. Ferry sent me an SMS he was already at the gate. Arriving at the gate after check-in and security, we had to wait for some time. The plane was supposed to leave at eight-fifteen, but there were bad weather conditions above Germany. Because of this, flight routes didn't have their usual capacity. So in essence we were already in a traffic jam before we got off the ground L.
In the end we left with a five quarter delay, so it wasn't that bad. Because of the bad weather conditions we had some turbulence along the way, it was bit of a bumpy ride.
When we finally landed and picked up our luggage from bagage reclaim it was after midnight. And then we found out we had to wait for a taxi. All other passengers also wanted transportation.
At that time, the only thing I wanted was to get to the hotel and get to bed! Since we both were very tired, we went to the hotel, checked in and went each to our own room for that good night's sleep. Finally.
Ciao,
Ingrid.