Second weekend
Friday night, July 7
I decide to go in to Rome. Since I really want to take pictures inside the Pantheon, I decide to wear something decent. It's a chruch after all. I am lucky and get to take some pictures inside the building before it closes. At least I assume it's closing; something is shouted in Italian and suddenly everybody starts to walk towards the exit. After that I take a quick walk towards the Trevifountain. It's fun to sit and watch people at the Trevifountain (or "going monkeywatching" as my friends and I usually call it). People of all nations, religions and cultures visit Rome. And yet, when they're at the Trevifountain they all behave the same: take pictures and throw coins in.
Then, as i am watching I feel a raindrop. I look up to the sky and see loads of very dark clouds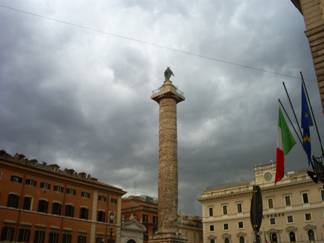 . Hm. If this is going to be a shower just as the one we had this morning, I'd better get indoors. I decide to walk back to the Pantheon via the Galleria. That way, if I'm caught by the rain I have two places along the way where I can shelter. I hear a thunder rumbling far away. Later on, whenI'm close to the Pantheon I see a lightning flashing and right after that I'm scared half to death by the incredible loud thunder that follows it. That lightning obviously struck something. Quickly I walk down the street towards the Pantheon.
Saturday, July 8
Today I want to catch a glimpse of Vatican City. When I'm waiting for the tram a girl at my side of the street gets into an arguments with a girl on the other side of the street. She crosses the street and they start a fight (a real feminine one: biting and scratching and pulling each others hair; why do women fight like that?). A boy from my side of the street crosses the street and joins the fight. He kicks the unfortunate girl in her belly a few times. It must have really hard because it's really hurting her. That's not fair: two against one and boy against girl on top of that. Bystanders are starting to interfere and the boy quickly runs from the scene. A whole group of people now leave the tram stop, dragging him along. I still don't know what has been going on but I'm glad the tram is arriving and I can get out of here.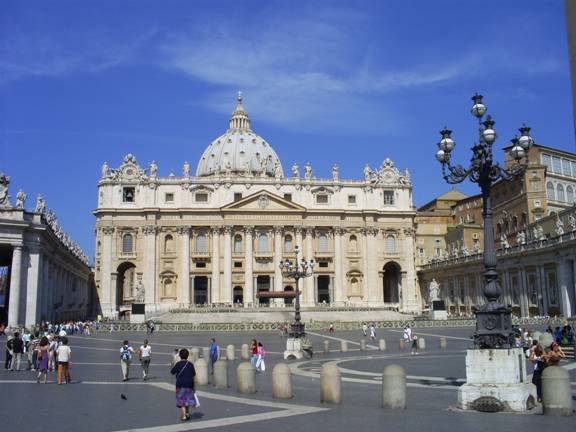 Upon arriving at Saint Peter's square I notice lots of tourists hanging around. I look a little closed and notice they're all in very, very long line to get into Saint's Peter. That disappoints me; I was looking forward to it, but I don't really feel like queing up for who knows how long just to see some oversized church.I take some pictures of the square and relax a little. When I take one of the streets I see a sign point towards the Sixtine Chapel. Maybe there I can take a look. But again I'm dissappointed: this line is even longer!! I walk past the queue and see a tram stop. Since I don't really feel like walking anymore I board the tram. I'll see where it'll stop.
The tram turns out to have a stop just north of the Piazza del Popolo. Since this square is quite prominently in Alexandre Dumas' novel "Count of Monte-Christo", I get out and take a look. I walk around the square and take some pictures. Then I take one of the streets and go window-shopping. Finally I arrive at the Piazza Venetia. I take a quick look at the Forum Trajanus after some pictures I slowly walk back to the tram-stop. My feet tell me this was quite enough for one day.
Sunday, July 9
So what's on schedule for today? Wait, I remember: I wanted to take a look at the Via Appia Antica. In Roman times this was the entry to Rome. It was even so famous it is in the Asterix-comic quite frequently. I'm very curious how it's two-thousand years after Asterix.
It's a nice and quiet walk.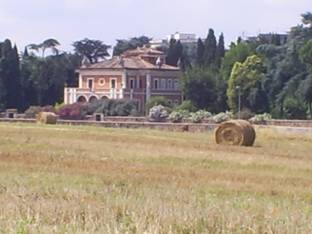 I enjoy the absence of ncars, scooters, buses. I take some pictures along the way. Then I finally end up at the catacombes of San Callisto. I decide to buy an entrance ticket and wait for a tour in a language I understand. You can only visit the catacombes with a tour guide. Once we're underground I can see why, it's a very big maze downthere, It's easy to get lost here. The guide tells about the time this burial site was used and explains early christains had to hold all of their religous ceremonies here. In the Roman Empire they were forbidden. When we get out of the catacombes some three quaters of an hour later I have to get used to the high temperatures again. Down in the catacombes it was so nice and cool. After I'm used to the heat again I go to the bus stop. I decide to into the center for a while, "monkeywatching" at the Spanish Steps and catching a sunray or two. I have to get back with a little more tan than I had when I came to Rome. J
Ciao,
Ingrid.